<![if !vml]> <![endif]>ALBANY COUNTY AMATEUR COMMUNICATION EMERGENCY SERVICES
MEETINGS:
First Tuesday of each month (September - June) 7:30 PM at the Albany County Emergency Management Office -- 58 Verda Ave, Delmar (Clarksville), NY (Directions)

February 7, 2017 JT65 by John KD2JKV
March 7, 2017 APCO (Association Public Communications Officials) by Kathy N2SQY
April 4, 2017 - Active Shooter (What to Do). RSVP needed to K2QY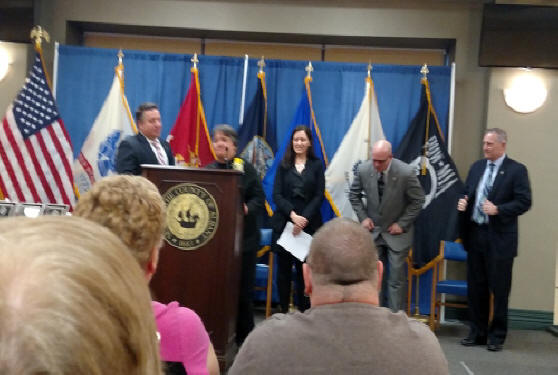 Kathy, N2SQY received Albany County Executive Volunteer Award from Albany County Executive Daniel McCoy on April 11, 2016
SKYWARN:
The primary SKYWARN repeater for Albany, Rensselaer, and Schnectady Counties is now the K2CT repeater 145.190 (103.5 tone)
Join ARES
==>
ARES Online Registration
<==
IRLP is now installed on the 147.120 repeater (repeater is presently installed at a temporary location in Glenmont). Click here to view the IRLP procedure.