<![if !vml]>

<![endif]>ALBANY COUNTY AMATEUR COMMUNICATION EMERGENCY SERVICES
MEETINGS:
First Tuesday of each month (September - June) 7:30 PM at the Albany County Emergency Management Office -- 58 Verda Ave, Delmar (Clarksville), NY (Directions)

May 3, 2016 -- 7:30 PM -

SKYWARN TRAINING

--

Click here for Schedule and Registration

June 7, 2016 -- Direction Finding by John, K2QY
July -- No Meeting
August 2, 2016 -- Picnic ?
September 6, 2016 -- Table Top Excercise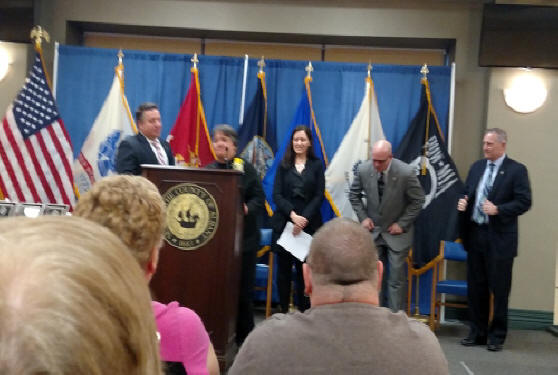 Kathy, N2SQY received Albany County Executive Volunteer Award from Albany County Executive Daniel McCoy on April 11, 2016
SKYWARN:
The primary SKYWARN repeater for Albany, Rensselaer, and Schnectady Counties is now the K2CT repeater 145.190 (103.5 tone)
Click here for 147.120 IRLP Status: -- (IRLP Presently Down)
On the air meetings: 7:30 PM Tuesdays (exception is the 2nd Tuesday of each month when the alternate repeater is used on 145.19 which requires a 103.5 tone) on the 147.120 repeater (100.0 Hertz tone now required on transmit on 147.12. Optional for 'quiet' receive).

The alternate repeater is 145.190 which has a 103.5 Hertz tone which will be used the 2nd Tuesday of each month for the on the air meeting.
Join ARES
==>
ARES Online Registration
<==
IRLP is now installed on the 147.120 repeater. Click here to view the IRLP procedure.