<![if !vml]> <![endif]>ALBANY COUNTY AMATEUR COMMUNICATION EMERGENCY SERVICES
MEETINGS:
First Tuesday of each month (September - June) 7:30 PM at the Albany County Emergency Management Office -- 58 Verda Ave, Delmar (Clarksville), NY (Directions)

March 7, 2017
April 4, 2017 - Active Shooter (2-hour training session, Ron Messen(Albany County Sheriff's Office) will provide vital information about what to expect during an incident, what to expect from law enforcement, and how to respond to law enforcement.). NOTE: RSVP REQUIRED DUE TO SPACE LIMITATIONS. RSVP to K2QY@arrl[dot]net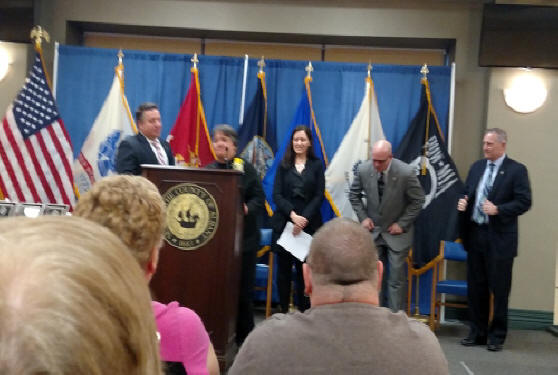 Kathy, N2SQY received Albany County Executive Volunteer Award from Albany County Executive Daniel McCoy on April 11, 2016
SKYWARN:
The primary SKYWARN repeater for Albany, Rensselaer, and Schnectady Counties is now the K2CT repeater 145.190 (103.5 tone)
Join ARES
==>
ARES Online Registration
<==
IRLP is now installed on the 147.120 repeater (repeater is presently installed at a temporary location in Glenmont). Click here to view the IRLP procedure.